Kwanzaa, officially observed from December 26 to January 1, might be one of the most misunderstood and overlooked winter holidays. But as a secular observance that focuses on concepts such as creativity, hope, and collective responsibility, it is one of the more appropriate and fun ways to bring these themes together in the classroom. Created in 1966 by Professor Maulana Ron Karenga as a way to reaffirm and restore identity and heritage in the African American community after the Watts Riots, the celebration is rooted in African diasporic traditions and practices.     
As an art teacher and parent, one of my favorite things about Kwanzaa is that the traditional symbols of the holiday—the mat, the candles, and the gifts—can be easily (and inexpensively) created with art supplies you already have and can be updated or reimagined to fit into your classroom and community.  
Organized around the principles called the Nguzo Saba, each day of the celebration focuses on a different principle:  
Unity: Umoja (oo–MO–jah)
To strive for and maintain unity in the family, community, nation, and race.
Self-Determination: Kujichagulia (koo–gee–cha–goo–LEE–yah)
To define ourselves, name ourselves, create for ourselves, and speak for ourselves.
Collective Work and Responsibility: Ujima (oo–GEE–mah)
To build and maintain our community together and make our brother's and sister's problems our own.
Cooperative Economics: Ujamaa (oo–JAH–mah)
To build and maintain our own stores, shops, and other businesses and to profit from them together.
Purpose: Nia (nee–YAH)
To make our collective vocation the building of community in order to restore our people to their traditional greatness.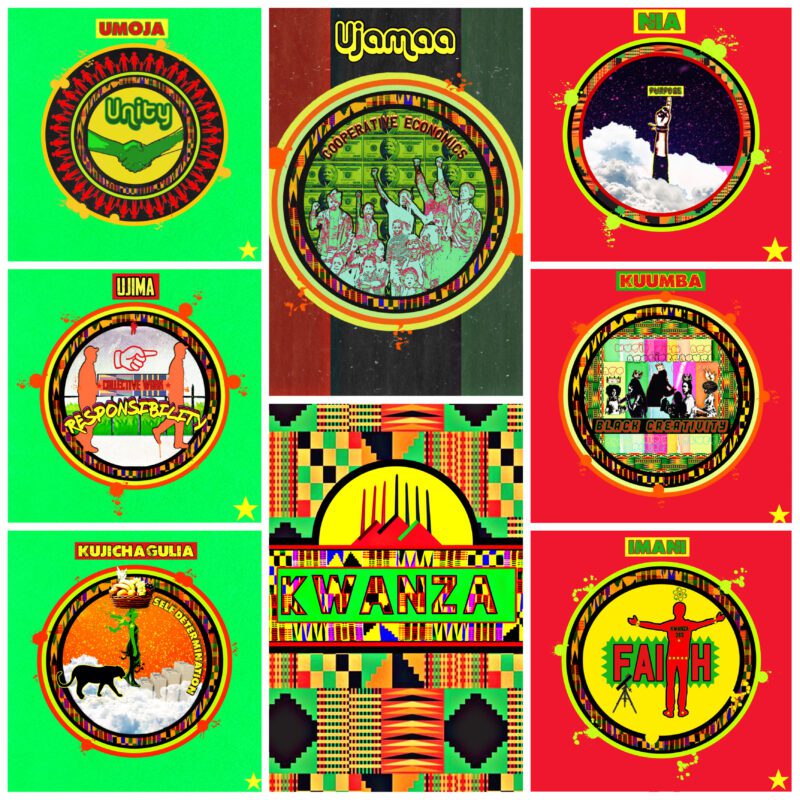 High on the list of 21st-century learning skills are creativity, citizenship, and collaboration. Kwanzaa is a perfect framework for exploring and practicing these skills in our classrooms. At the heart of the 21st-century learning skills and the celebration of Kwanzaa are collaboration, empathy, and uplifting one another and ourselves.  
The common misconceptions about Kwanzaa are that it is an African religious holiday, rightfully observed by Americans of African ancestry. Since the roots of Kwanzaa are not in a religious text, it can have a different place in the classroom. "Kwanzaa is not a religious holiday but a cultural one with an inherent spiritual quality," Karenga tells us. He also assures us that "non-Black people can also enjoy Kwanzaa."  
Whether you have celebrated Kwanzaa in some form your whole life or you are just learning about it for the first time, you may be looking for ways to make it fit into your teaching. Right now, new generations are learning about this creative and engaging celebration and defining it for themselves. I believe the most important thing to keep in mind is that you have an opportunity to be a part of how new generations make this holiday their own, and your students will be taking their cues from you.  
Here are some ways to teach about Kwanzaa.
Newsletters / Pen Pals / Social Media Projects  
One very common way I see friends and family sharing traditions of Kwanzaa is to share them on social media. Since the official celebration takes place while most of us are on winter break, you can have your students prepare their posts in those crazy last days. If you have classroom pen pals, this would be a great way to structure their conversations, especially for those kids who don't know what to write about. The common greeting is Habari gani? This means "What is the news?" What a great prompt!  
Literature / Writing Connections
This could be as straightforward as a research project or freewriting about what each principle means to your students.  You can extend this throughout the year, even using Kwanzaa as a lens to explore themes and symbols in literature or current events.   
Art
The symbols and traditions lend themselves to artistic interpretation. You can have your students illustrate the different principles or make their own Kwanzaa sets and classroom decorations. Remember: These principles and symbols can be a starting point for your class to explore other important themes and skills such as empathy, mindfulness, and community too.  
Do you teach about Kwanzaa in the classroom? What activities do you do? Please share your ideas in the comments.
Plus, for more articles like this, be sure to subscribe to our newsletters.